WATCH THE VIDEO TO SEE EXACTLY HOW THE ALL-NEW NARGESA C3006 SHEAR WORKS ALONG WITH ALL OF IT'S FEATURES
The last generation of QUANTUM NARGESA CNC Vertical cut shears are made of stabilized, welded steel that allows to take on big jobs without deformation.
ADVANTAGES OF VERTICAL CUT INSTEAD OF SWING CUT:
Energy Savings:

Resistance of material in vertical cut is much lower, which becomes a considerable energetic saving.

Cutting Quality: Clean, perfect and accurate cut.
Life of the Blades: The blades wear is almost nule. The life of the blades is 4 times higher than other shearing systems.
STANDARD FEATURES OF THE C3006
STANDARD
FEATURES OF THE C3006
Cutting Length: 119" / 9'-11" / (3,030mm)
Mild Steel (450N/mm2) Cutting Capacity: 0.23" (6mm)
Stainless Steel (700N/mm2) Cutting Capacity: 0.15" (4mm)
Independent Hydraulic Rammers: 15 Units
Goose Neck for Cuts with Bigger Length: 6.8" (173mm)
Accuracy & Repeatability of Positioning: from +/- 0.004" (0.1mm)
Millimeter Squaring Arm Length: 39.3" (1,000mm)
Squaring Arms: Two 39.3" (1,000mm)
Strokes Per Minute: 12 Strokes. (All length)
Fixed Cut Inclination: 1.75º
Gauge Displacement: 27.5" (700mm)
Approx. Machine Weight: 17,700 lbs.
Motor Power: 12 HP (9.2 kw)
Hydraulic Pump: 22 liters.
Container Capacity: 96 liters.
CNC back gauge.
Digital display.
4-edged lower and upper blades Suitable for stainless steel.
Cutting area lit up by LED's.
Thin marking zone for manual cutting.
Driving with safety pedal and emergency stop.
Back overture with safety optoelectronic devices.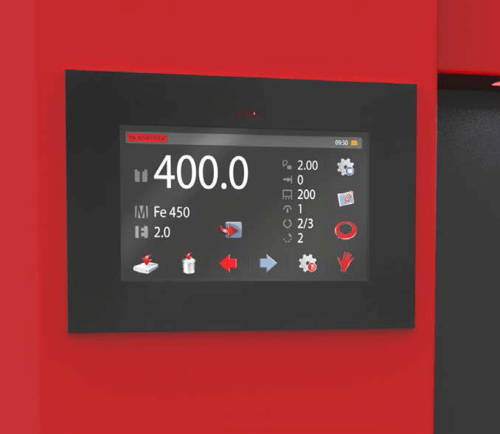 FEATURES OF THE COMPACT CNC CONTROL ESA S62
The operator only has to enter the type of material, thickness, distance from the gauge and the CNC will automatically arrange all components to obtain an optimal result.
Equipped with a 7 "touch screen which makes all operations on the machine simpler and more intuitive.
You can manage up to 3 axes and 16 + 12 I / O with an integrated PLC.
Storage of thousands of parts programs.
7 "800x480 color touch screen resolution
128 MB silicon disk.
2 analog inputs, 12-bit resolution.
16 digital inputs (24Vdc).
16 digital outputs (24V DC, 0.7 A max.) Protected against overloads and short circuits.
1 RS232 serial port
1 CAN port with 9 contacts Sub D F connector.
24Vdc power supply.
1 USB input.
1 Ethernet port that allows connection remotely.
(A Quantum Machinery Group Division)
---
---
For all Machinery Inquiries and Questions, fill out the form below, and one of our Nargesa Specialists will be in contact with you shortly.
Thanks!
This field is required
This field is required
This field is required
This field is required
This field is required