The QUANTUM NARGESA Hydraulic Press Brake MP1500CNC takes sheet metalworking to a new level, offering outstanding efficiency and precision. With a chassis of welded, stabilized and machined steel, external design featuring stripped-down lines for a solid appearance, and improved structural calculations, these new hydraulic press brakes set themselves up as the new cornerstone for the sheet metalwork industry.
WATCH THE VIDEO TO SEE EXACTLY HOW THE ALL-NEW NARGESA MP1500CNC PRESS BRAKE WORKS ALONG WITH ALL OF IT'S FEATURES
Among the elements that make the new Nargesa CNC hydraulic press brakes ideal for the sheet metalwork industry, we highlight the following: the adaptive electronic pressure control system which ensures the force required for each operation; the chassis bending electronic compensator which gives optimum bending precision with different sheet metal lengths; the micrometric resolution optical encoder which permits perfect positioning of the vertical axis of bending; the sophisticated electronic compensation system for hydraulic oil temperature, which can be configured using software to offer repeat bending at different working temperatures; the self-monitoring safety hydraulic system contained in a single unit which provides manometer pressure information at all times with optics indication of the status of valves and sensors, transmitting movement to the vertical bending axis ensuring precision to within 0.01mm, and a servo motor driven back gauge with maximum precision recirculating ball screw guide which reduces X and R axis positioning error to less than 0.05 mm and the option for manual adjustment of the Z axis; and 2.0 connectivity for seamless LAN integration of machines via a 10/100 Mbit Ethernet connection for the remote control, management, diagnosis and update of machines. A full range of specifications designed to provide maximum performance using technological components of the highest quality to make the operator's job easier.
TECHNICAL SPECS AND FEATURES
TECHNICAL SPECS AND FEATURES
Hydraulic Power: 40 Tons
Inner Folding Length: 49" / 4'-1" / 1,250mm
Total Folding Length: 59" / 4'-11" / 1,500mm
Punch Working Speed: 0.32"/s. (8.3mm/s)
Return Speed of the Punch: 4.7"/s. (120mm/s)
Lowering Speed of the Punch: 7.8"/s. (200mm/s)
Maximum Punch Displacement: 7.8" (200mm)
Back Gauge Displacement: 23.6" (600mm)
Neck: 10.63" (270mm)
Motor Power: 7.5 HP (5.5 kw.)
Dimensions: 83" x 65" x 87"
Weight: 10,800 lbs.
The machine is delivered completely assembled.
Automatic control of vertical bending axis (Y axis).
Promecam punch clamping system with segmented flanges.
Promecam punch, reference PS.135.85.R08, induction tempered in working and grinding zones.
Promecam die, reference M.460.R, induction tempered in working and grinding zones.
Back gauge fitted with BOSCH REXROTH recirculating ball screw guides, ESA servo motor automatic control of horizontal axis (X axis), manual control of vertical axis (R axis) and manual control of transverse axis (Z axis) with parallel alignment and curvature adjustment.
Euro Promecam system with die guide rail.
Chassis bending electronic compensator.
LED directional light strip for bending zone.
GIVI MISURE high-precision optical encoder, 0.005 mm resolution.
Hydraulic unit with 24 VDC redundant safety valves with optics and pressure indication.
Electronic compensation of hydraulic oil temperature.
Adaptive electronic pressure control.
Front arms which slide on linear recirculating ball screw guides for optimum sheet metal grip.
Side doors with electronic safety control.
High-frequency laser sensor system unaffected by external light sources.
Software-configured electronic muting system.
ESA numerical control, reference S630.
Ethernet 10/100 Mbit LAN connectivity.
USB 2.0 ports and VGA connector for updates, backup and peripherals.
10" color touchscreen graphics interface, high resolution, multi-language (over 20 languages).
Complete software for Windows PC with bending simulator and CNC optimiser for
2-D graphics programming of bending sequence, with full library of Promecam punches and dies.
Basic software installed in the CNC control containing a full library of Promecam punches and dies, and for creating, modifying and editing bending programs in numerical mode, which can be enlarged with additional software modules.
STANDARD EQUIPMENT INCLUDED
STANDARD EQUIPMENT INCLUDED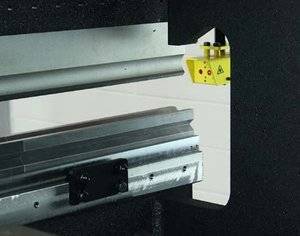 S-BEND
The S-bend included in the hydraulic press brake design enables complex pieces to be produced, facilitating bending at both ends of the machine.

LED LIGHTING
The LED directional light strip for lighting the bending zone permits the operator to work in optimum visibility conditions.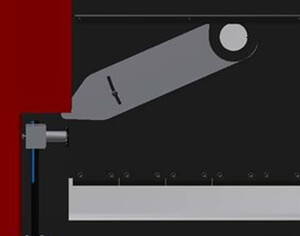 PUNCH PARALLEL ALIGNMENT
High precision can be obtained with the mechanical punch parallel alignment adjustment system.

SLIDING ARMS
The front arms which slide by means of recirculating ball screw guides enable the sheet metal to be held in position securely and can be fully adjusted both horizontally and vertically by hand.

SIDE DOORS
The side doors of the hydraulic press brake have an electronic safety control device to manage their position and give information to user at all times via onscreen messages, and offer a large opening angle which makes it easier to change punches and dies whenever necessary. In addition, their design combines steel plate with a methacrylate viewing window so precision bending operations can be inspected in complete safety.

PRECISION BENDING
For maximum bending precision a GIVI MISURE high resolution (0.00020" / 0.005mm) optical encoder is used, which controls the vertical position of the bending axis (Y axis) for excellent reliability in each operation. Combined with control of lowering speed, this ensures punch holder plate vertical axis precision for bending operations and gives positioning error of less than 0.00040" (0.01mm).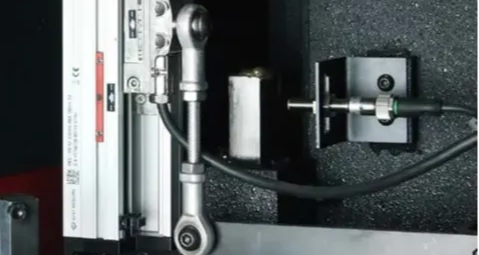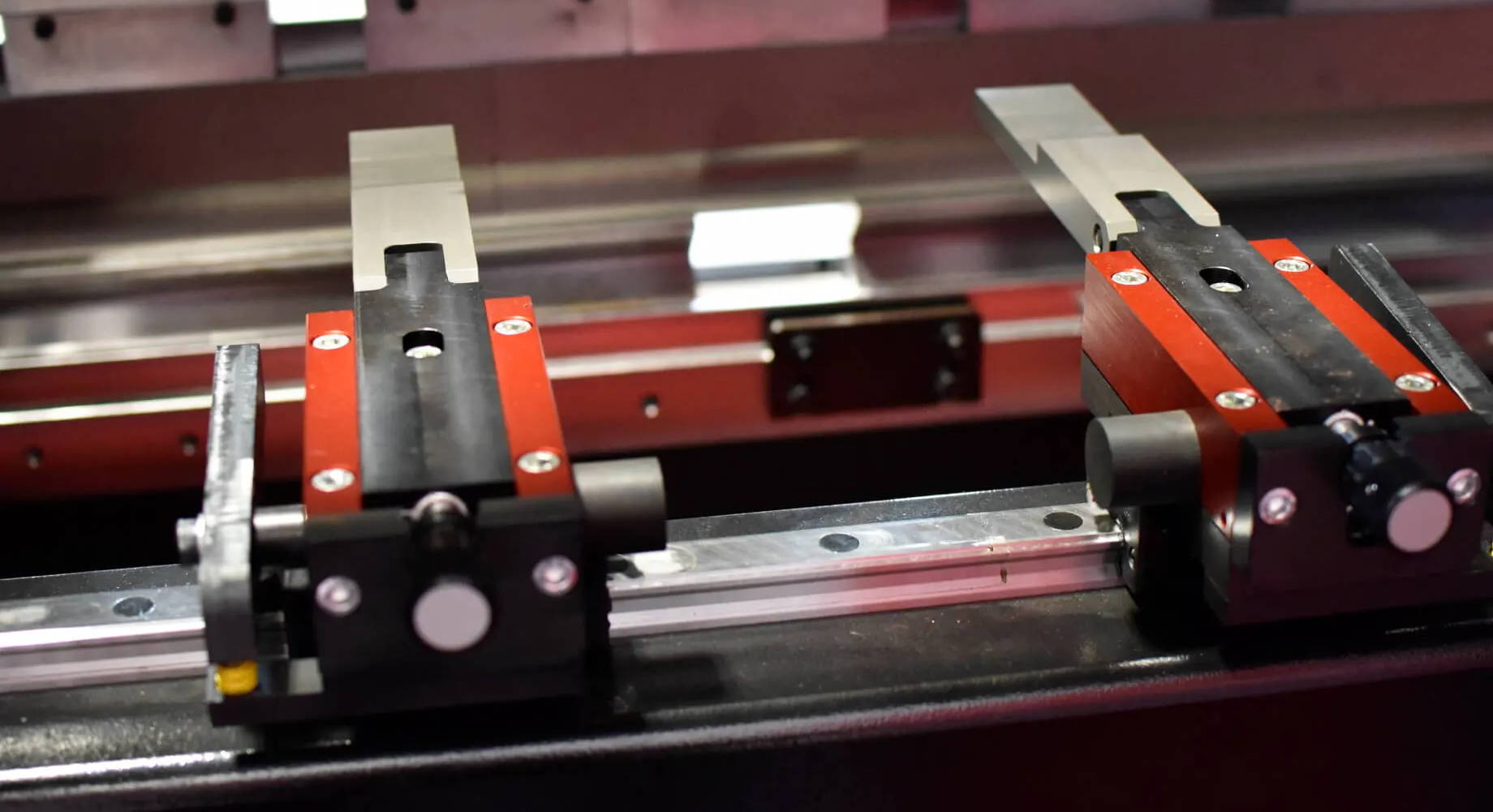 BACK GAUGE
The back gauge is fitted with ESA servo motors and precision BOSCH REXROTH recirculating ball screw guides which permit automatic positioning of X and R axes with 0.05 mm precision. It also has a manual adjustment system for the Z axis which enables the gauge callipers to be slid easily along a guide with recirculating ball screw system. The parallel alignment of the gauge callipers with the press brake punch holder plate is adjusted manually using micrometers to ensure maximum precision. In addition there is a mechanical offset system for Z axis curvature so that deviations can be corrected. • High speed measurement search: 565 mm/seg • Servo motor 1 Nm to 5000 rpm. • Back gauge displacement 600 mm.

HYDRAULIC UNIT
Centralizing all the hydraulic components in a single unit improves their maintenance and management, giving a self-monitoring, redundant hydraulic system which provides working pressure information at all times by means of a manometer, and optics indication of the status of valves and sensors. In addition to the mechanical pressure limiter, electromagnetic safety valve and electromagnetic control valves for raising and lowering the punch holder plate,the hydraulic unit is fitted with two proportional servo valves, one for dynamic pressure regulation (servo valve E1) according to the requirements of each bending operation, and another for regulating the speed of the vertical bending axis (servo valve D1) to ensure highest working precision at all times. The electromagnetic valves are controlled at 24 VDC and have an LED light indicating activation status and an inductive position sensor with LED light for safety control.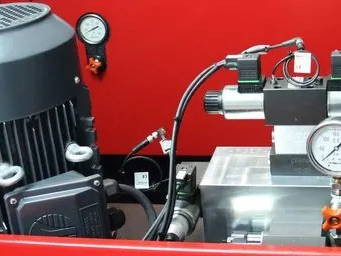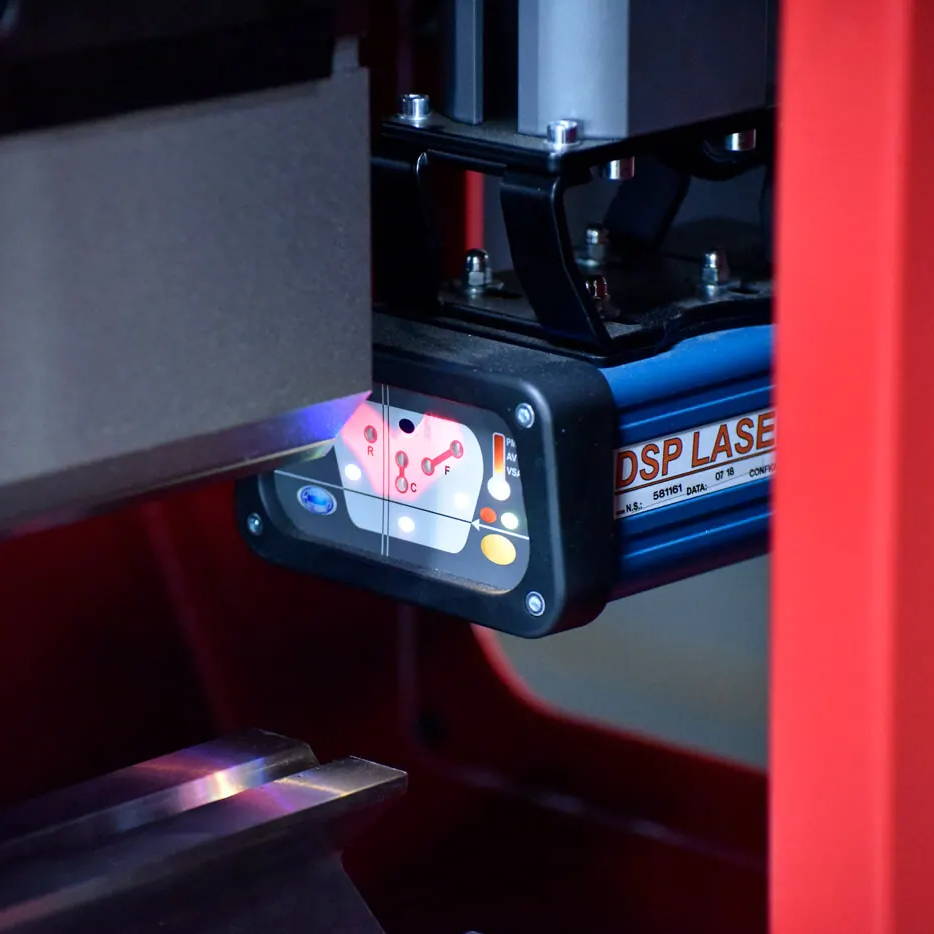 LASER SENSOR
The laser sensor system built in to the press brake has a metric guide to facilitate vertical adjustment and can easily be lifted up and removed when work tools (punches and dies) need changing. The system includes two electronically controlled high frequency laser emitters and receivers which are able to recognize and ignore any external light source and are thus protected from interference by any other lighting, whether natural or artificial. In addition, for complex bending operations on sheet metal with protruding areas which prevent the piece from being produced in the normal way, the laser sensor can be disabled by means of a push-button on the front of the machine which causes the press brake to operate at low speed. Moreover, the inclusion of electronic muting enables the laser sensor sweep extremities to be replaced with a novel parameterised system, where CNC control software controls the activation position of muting automatically at all times in relation to punch size and sheet metal thickness.

THE NARGESA CNC CONTROL
The powerful ESA S630 CNC control system has outstanding processing capacity which permits up to four axes to be managed, interpolated in any combination Y, X, R and Z, providing solutions for the most complex bending operations, and a flash memory for 5000 programs and a full library of Promecam punches and dies. CNC control is the core which runs all the systems and which now includes, amongst other innovative solutions, the adaptive electronic pressure control which calculates the force required for each operation and thus lengthens the life cycle of punches and dies; the electronic chassis bending compensator which plays a part in optimising bending precision with different lengths of sheet metal; and the efficient electronic system for hydraulic oil temperature compensation, permitting repeat bending operations to be performed at different working temperatures. The 10" high-resolution (1024 x 600 pixels) colour graphics touchscreen responds efficiently to user operations and provides clear and detailed information at all times. It enables programs to be edited graphically or numerically, new dies and punches to be managed, edited and added to existing libraries, bending sequences to be controlled, bending collisions to be controlled, bending simulations to be done, sheet metalwork to be calculated and machine sensors and inputs/outputs to be diagnosed in an intuitive and straightforward manner. Moreover it offers 20+ display language options, so the requirements of the majority of users are covered. In terms of connectivity, the CNC ESA S630 control turns the new Nargesa CNC hydraulic press brakes into just another item of equipment in the company LAN thanks to the Ethernet 10/100 Mbit port which enables remote control, management, software updates and diagnosis to be performed. In addition, USB 2.0 ports and a VGA connector allow CNC software to be updated locally and external peripherals to be connected, such as backup units, QWERTY keyboards, mouse or external display screen.
Sheet Metalwork and Bending Sequence Calculations
The complex algorithms processed by the CNC control enable the total worked length of the sheet metal to be obtained accurately according to the bending program. Furthermore, bending sequence management makes it possible to select the most suitable option for producing each piece, ensuring greatest ease for user who also has invaluable help in the form of the efficient 2-D visual bending simulator, which displays the positioning of the sheet metal in the press brake during each stage of the process, in addition to graphics display of the progress of different bending operations being performed. Naturally, the CNC control also takes care of running collisions calculation at all times, thus providing precise indication of any potential collision problem between the sheet metal to be bent, the punch and dies used, and the structure of the CNC ESA S620 control software can also be installed on any computer running the current version of the Windows operating system and has the same interface as the machine, thus minimizing the time required to become familiar with how it works and permitting two-way export of programs and tools between PC and machine.
Fitted with high-specification CNC control, the operation of these complex machines is now easier and more intuitive than ever before. It's color, high-resolution touchscreen graphics interface and powerful CPU enable the most complicated bending operations to be processed effortlessly and sophisticated algorithms to be calculated in mere microseconds, so you get the highest performance out of these pieces of engineering excellence.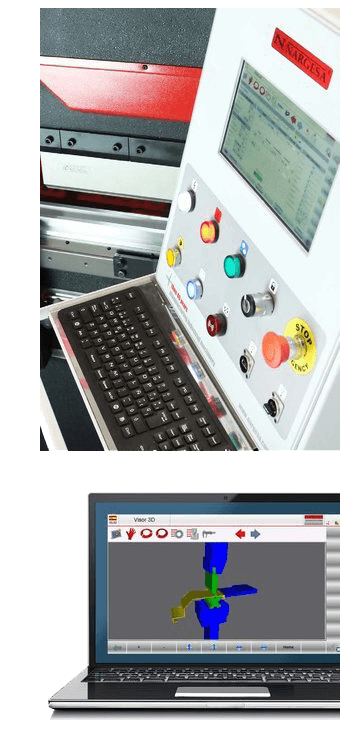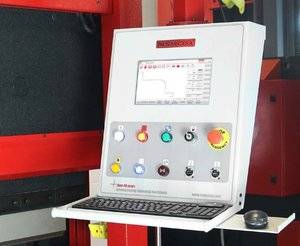 GRAPHICS AND BEND CALCULATION IN CNC
Optional installation in the basic CNC control of software modules with bending simulator and CNC optimizer for the creation of 2-D graphics of bending program with the most efficient sequence.

PUNCHES AND DIES
We have a wide catalog of punches and dies of all kinds, and for all applications. Ask your Quantum Machinery Sales Engineer about the tooling options available for the MP Series Press Brakes.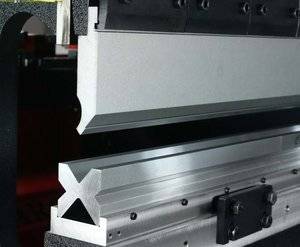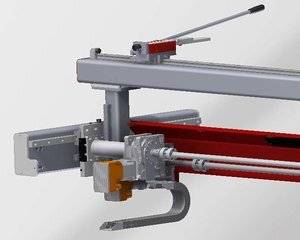 MOTORIZED R-AXIS
Motorized vertical axis (R axis) of back gauge, controlled by ESA servo motor, with the features described below:
• High Speed Positioning: 5.1"/sec. (130mm/sec.)
• High Precision Recirculating Ball Screw Guides.
• Servo motor with 1 Nm torque at 5000 R.P.M.
• Maximum Displacement of Axis: 5.9" (150mm)
• Mechanical Precision: 0.0020" (0.05mm)
(A Quantum Machinery Group Division)
---
---
For all Machinery Inquiries and Questions, fill out the form below, and one of our Nargesa Specialists will be in contact with you shortly.
Thanks!
This field is required
This field is required
This field is required
This field is required
This field is required